Installment Downpayment and PAGIBIG or in-house financing
Select from the map
Go to the office with agent
Sign up reservation form and contract
Pay reservation fee
Get the list of requirements
Depending on the terms, After a month, pay the monthly downpayment
Before paying in full the downpayment, complete the requirements
Once complete, you will be assigned the batch construction
Note: Your house will not be constructed right away if the current batch is not your batch number
You may check the venue time to time, talk to the engineer, etc.
Wait for the call to attend the PAGIBIG Seminar
After the Seminar, have the PAGIBIG personnel sign your paper
Follow-up the Office after a month to get the approval
Wait for the call of the office to get your keys, water and electricity documents (CENECO and BACIWA or Prime Water)
Bring those documents to the CENECO and BACIWA and get their instructions when your lines will be connected; pay the necessary fees. (Connection from main electric post to your house, and from main pipe to yours)
Water company usually gives a list of materials to buy, buy them before the connection day.
Once connected, you may reside, use or transfer to the house
Do not make any demolition of any part of the house yet before the PAGIBIG confirmation call
Wait for the call of the office for your PAGIBIG Takeout. Takeout is when the loan is released by the financing corporation.
You may need to send updated requirements such as job contract and valid IDs; also update your PAGIBIG contribution
After a few weeks or months, you or your SPA will receive a call when to start your PAGIBIG amortizations. You may pay via GCash, Western Union, or you may leave PDC at the PAGIBIG office (Gaisano City).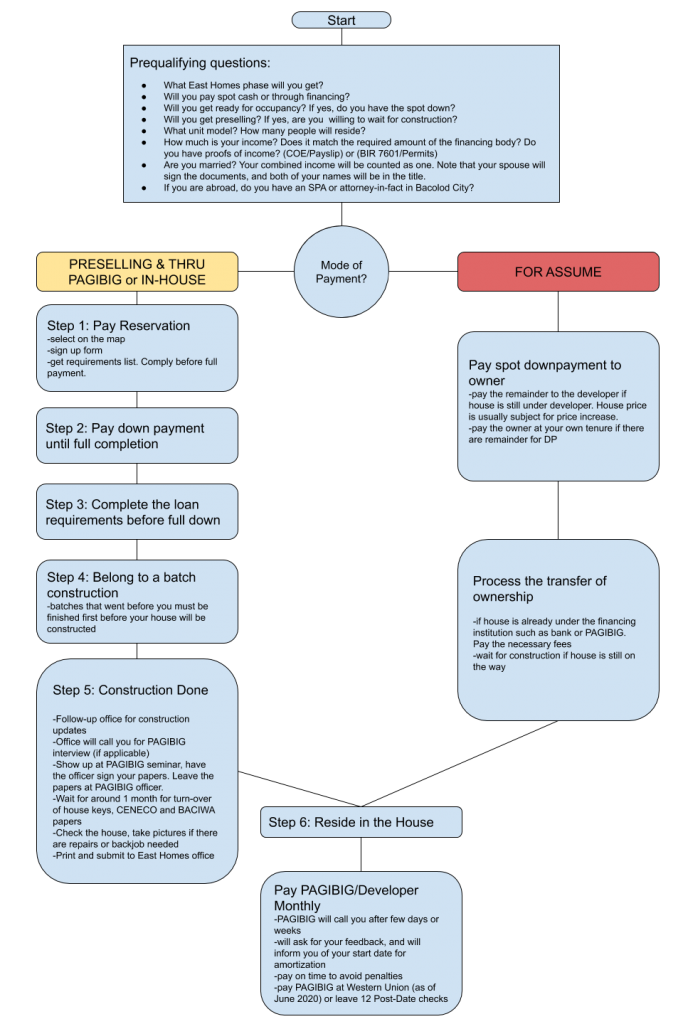 FAQ
When will the house be constructed?
👋After paying the total downpayment po and submitting the complete PAGIBIG requirements or loan approval, you will belong to the next batch of house construction. 🏡 👷 Workers will build your house by batch. Houses will begin if the roads and drainage are ready also. No houses yet during mud roads or land dev stage. Your batch construction will start after previous batch is done. Example, if you're done with all requirements and belong to batch 3, and if the contractor is now building the batch 2, we have to wait until batch 2 is done, then kayo na next. Time ⌚ duration of house building is around 6 months 🗓 🎉
How long ma build ang bahay?
6 to 8 months construction. House will be built upon 3 conditions: 1. Fully-paid Downpayment (Equity + Processing)
2. Complete PAGIBIG Requirements or BANK Requirements (if in-house, no need for much requirements)
3. Ready na ang roads and drainages Please note that after you complete the 3 above, you will belong to batching of construction. Houses are built by batch. So let's say, batch 2 will be done next 2 months and you are batch 3, you will begin 2 months from now.
What if I am abroad?
No problem if you are abroad. Ang pinaka importante, may proof of income ka like COE or ITR because 'yan ang basis ni PAGIBIG / Banks para pahiramin ka pera.
What if hindi pa ako naka contribute sa PAGIBIG?
No problem. You can pay the 2 years required as lumpsome through our company. We will spread it out to 24 months. Important: dapat ipadaan sa amin and not direct sa PAGIBIG dahil tendency 24 months payment (P4800) i-laan sa isang buwan.
When will I get the title?
You will get the original title under your name after you fully pay your loan from PAGIBIG, Bank or Company (if inhouse)
What if I am married but separated?
That's a problem because the spouse must sign the documents and the property will be a conjugal property. If you are the buyer, dapat mong iacknowledge na magiging possession pa ito ng spouse mo unless may upcoming annulment or separation mechanism na darating.
What if mamatay ako / owner habang nasa amortization stage pa ako?
Merong tayong tinatawag na MRI or Mortgage Redemption Insurance. Ito ay compulsory or sapilitan dahil ano man ang mangyari sayo, mapupunta pa din sa pamilya/ beneficiaries mo ang lupa at bahay.
What if di na ako naka bayad ng equity?
Dapat hindi aapaw sa 2 buwan ang kulang dahil posibleng ipatawag ka, at mabigyan ng notice to pay. Dapat mag bigay ng promisory note at tuparin ito. Pag sobrang tagal na ang hindi pag babayad, walang makukuhang refund ang client by virtue of the signed agreement or owner's discretion.
What if I want to back-out?
If updated ang pagbabayad ng equity, marerefund ang 50% ng total payments less commissions.
What is Included in the Processing Fees?
That includes title transfer, ceneco, baciwa, processing fee, geodetic, mayor's permit, fire permit, building permit, engineering processing, electricity permit and connection (CENECO) and water connection (BACIWA). All of which you won't give attention to na since the company everything for you
How long does it take from full downpayment to house transfer?
After complete PAGIBIG / Loan requirements and fully-paid downpayment, you will belong to House Construction Batching. Once your batch starts construction, it takes around 6 months.
How much is the maximum loanable amount from PAGIBIG?
For the low cost category, maximum is 2 Million or not exceeding that. The principal burrower must present proof of income (Job Contract, COE or ITR) that proves earnings can compensate the loan payments / amortization. The standard figure is that your monthly installment / amortization must not exceed your 35% of your monthly income. If you are married, your salary is combined with your spouse if he or she is working. There are instances that single/ unmarried people apply with a co-burrower.