CASH PRICE = 2,900,000 pesos only.
Downpayment = 900,000.00 (SPOT CASH)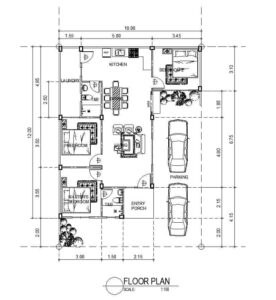 HOUSE AND LOT FOR SALE
The builder of this house is a hardware owner, resident of East Homes Mansilingan, and sales agent. They also supervise the quality of the materials used and the construction.
The house can be occupied estimated around October 2022. They designed this to have a wide breathable space, hence there is a firewall rather than easements. They designed it to have a wide parking space which can accommodate two cars.
Below is the video taken as of Sept 2022
Relatively, this is cheaper to other subdivisions. This one is offered only P2.9 Million while others at this specs is already at P4M.
Location is near the entrance of the subdivision, facing sunrise (east), single detached, and high quality materials.
Title is Clean and without encumbrances.

Location: East Homes 4 Subdivision, Brgy. Mansilingan, Bacolod City.
Features: 3 bedrooms 2 Toilet & Bath Living, Dining, & Kitchen With Parking area for 2 cars
140sqm lot area
88sqm floor area

FREE TILES, GRILLS, CONCRETE FENCE, GATE, AND LIGHTS/WATER INSTALLATION

Subdivision Amenities:
– Entrance Gate w/ Guard House
– Subd Perimeter Fence
– Parks & Playground
– Multipurpose Hall
– Wide and concrete roads

Electrical Facilities

CASH PRICE = 2,900,000 pesos only.
Downpayment = 900,000.00 (SPOT CASH)